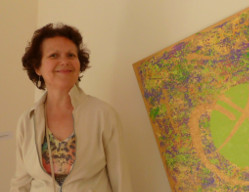 Biographie

From modern figuration to lyrical abstraction
The use of soft pastel great chart of colors for many years gave me the love for colors. Three main styles characterized that period of the geometric backgrounds, the black backgrounds and the lyrical constructions. As far as my nudes and portraits' expressionism is concerned, I owed it to the influence of Ken Paine, one of the greatest English portraitists of the last century, whom I admired and with whom I developed a real complicity for few years which helped me to get freer with my artwork.
In 2005, I left pastel on the side and I work with oil in a very different approach. First of all, using painting knife gave me the freedom I was looking for and secondly, it allowed me to forget everything I had been taught before to go my own way. This brought me naturally to abstract.
For many years, in my abstract painting, I pay more attention to the harmony of colors together even though there remains drawings' suggestion under the heavy coats of paintings, lines or spots till they merged together to the point of disappearing' till I worked with Plexiglas early 2015 with my stained-glass series. This interests me for three reasons: the color transparency of the painting on Plexiglas like with stained-glass, its appearance as of enameled Chinese painting and the unpredictable way colors will mix together.
Each of my painting is the result of unique moments which I try to transmit to you with colors or simply I am guided by the colors of life. Each color has a sound so let me try to have you hear it!
Art training with Ken Paine, English painter and portraitist (2001 until 2002)Academy of La Grande Chaumiere in Montparnasse, Paris - free study (Nudes and portraits) (1999-2000)Atelier of Fine Arts in Paris with Michel King, painter and great watercolor artist (1986 until 1989)Art Department of CCSF (City College of San Francisco) - 1982 until 84 et 1991 until 1992

Donations
March 2011 - Donation of a soft pastel called "Halloween" to Lenval Foundation and Hospital in Nice.
July 2010 - Donation of a drawing study of a cat's face to Brigitte Bardot's Foundation in Paris.
April 2010 - Donation of a drawing called "Sitting live model" realized with blue pastel pencil to the Maison des Artistes é  Paris for an auction whose profits will go to the Haitian artists.
January 2006 – The pastel called "the blue ceramic and the orange" with geometric background was given to the Ligue du Cancer in Paris to Professor Pujol, Chairman of the cancer research foundation. It is hanging in the reception area at 14 rue Corvisart in Paris, 13 th.
September 2005 – Donation of 4 small oil paintings to the English College, Atlantic College – which allows certain students to study at College level – which was organized by François Paul-Cavallier in Paris, psychoanalyst and art lover who studied there years ago. Their actions are at a world level and Nelson Mandela is one of their honouree member.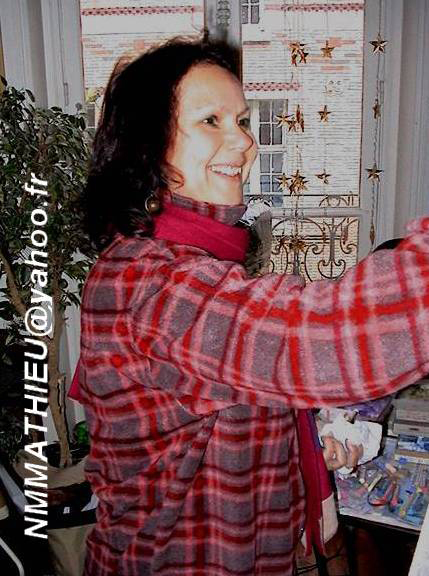 Art Critics
"I came up to her atelier during the artists' open door studio of the 13 th arrondissement in Paris in 2003. She had told me that there were 4 floors to go up and not to worry to come along because of my old age. But god, I don't regret one second having done so. I was overcome by what I discovered and I stayed a fairly long time looking at everything I could in every corner of her place. Discovering N. M. Mathieu's work was a real surprise to me, seeing such a rich and diversified show and, especially, such an evolvement in so little time. And it is with great pleasure and enthusiasm that I encourage her to keep going and never stop in this fantastic and fructuous search". Mme Médioni, Paris, 2003
"Looking at N. M. Mathieu's art work, painter and pastelist, one may sometimes think that it is a very discontinued work or that she is going in too many directions - as she passes from figurative work to abstraction. However she always seems animated by an inside eye (inner self) paying attention to the continuing line that she follows as well as the secret part of it. Her work is also very adventurous, even though she has always been aware of the many movements in paintings, in her quests and emotional searches : departure in 1980 to America, San Francisco, the loved city, and the discovery of a creative identity; going to the spiritual origins of her mother's family on the Mauritius Island… the ebb and flow of the sea and the sun. She draws her own canvas – as Francis Ponge wrote about it, adventure itself as in "Alice in Wonderland" with the smile of the cat, but without the cat, towards a universe where the materiality of the world slowly disappears to come back strongly and with many colors to remind us of our delicate presence in this world". Jacqueline Delaunay-Hologne, Art Critic, art photograph and specialist of Brancusi – January 2005